One year later, thank you from your CEO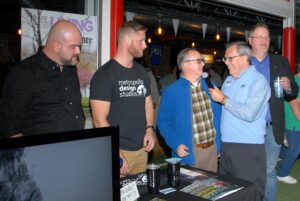 It doesn't seem possible, but Sunday is my first anniversary at the Chamber.
To say it's been a whirlwind first year is a tad understated, but I'm so thankful for the last year and everything that has happened. It's a great time to lead the Chillicothe Ross Chamber of Commerce, so in the spirit of the season, I thought I'd share a few of the things for which I am thankful this year.
Working with our member/investors is such an honor. From the small business owner who does it all themselves to our biggest employers with many levels of leadership, it's a challenge that I look forward to every day. One of the best parts of my job is sitting down with them to find out their difficulties, joys, and frustrations. Thank you for your belief and investment in our Chamber. We'll continue working hard every day to make sure their investment adds value to their businesses.
I can't say enough about the folks around me. My two-person staff – Bobbi Kellough and Phillip King – and I have grown to trust each other in the past year, and that has resulted in a great year. They are amongst the hardest working people I have ever met. Where I am weak, they are reliable and that teamwork has paid off. I also have a great board that has challenged and supported me as I made some changes this year. Most of all, they've been heavily engaged in what we do, and that makes everything much easier for the staff.
It's been a great year in Chillicothe. Our award-winning downtown revitalization is getting another boost, as a four-story boutique hotel will soon start construction on Water Street, and many other small shops and restaurants are coming. Our Bridge Street retail corridor continues to pull people from across the region and is getting stronger with the additions of Texas Roadhouse and (soon) Mr. Gatti's Pizza – with not only games and fun for children of all ages, but also much-needed meeting rooms.
Most of all, I've been blessed to have a wife that challenges me but also understands and supports all the different things I have to do – some late meetings and events. If you've met our children, you know that they are energetic and fun-loving, and they make life spirited. It's a blessed life – all the way around.
There are challenges ahead, no doubt. But the momentum is here in Chillicothe. It's up to all of us to capitalize on it and keep it moving. Thanks to all of you who have created a new Chillicothe and Ross County. Now, let's push toward vibrant and thriving.