Five* great reasons to attend the 2020 annual meeting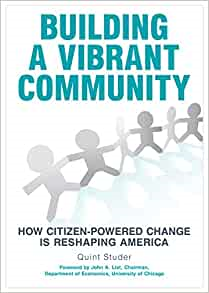 We're in the countdown mode for the 2020 Annual Meeting and ticket sales are picking up ahead of our Wednesday deadline. As we've talked about Quint Studer and his community development work, the energy around his visit is picking up, but maybe – just maybe – you haven't committed to coming to the dinner yet.
If that's you, here are five* good reasons to be in the crowd at the 2020 Annual Meeting (*= because we cheated and added two more):
Honoring some of Ross County's finest businesses and businesspersons: Our selection committee voted on the awards last week and we have another group of deserving winners for Entrepreneur of the Year, Legacy, Corporate Citizenship, and Young Professional of the Year. We're not naming finalists this year, so we're hoping you'll be there to see who wins and celebrate with them.
But, it's not just another awards banquet: Quint Studer's visit is a great opportunity for Ross County and Chillicothe to continue the great wave of success we're enjoying right now. The Chamber intentionally chose Quint because he's great at not only helping community's overcome their obstacles, but also assisting towns like Chillicothe, who have had success and need a next step.
A testimonial, sort of … Last year, Quint and his team visited Springfield, Ohio, on a similar mission. Mike McDorman, the president and CEO of The Chamber of Greater Springfield, said the visit was "a gamechanger" for that community. McDorman said the visit helped to galvanize the community's resolve to change to increase opportunity for businesses and residents alike and upped the level of civic engagement in the community. Meetings of community members before Quint's visit averaged 200-250 people and increased up to three-fold after the visit. We believe the same thing will happen in Ross County!
Food. They say that if you offer good food in Ross County, the crowd just magically appears. That might not be completely true, but we'll have an amazing spread: Appetizers from The Pour House at Machinery Hall, a main course from Haute Stuff Catering, and dessert and coffee from Livy Cakes and Two Roasting Joes. Beer and other beverages from Classic Brands and wine from Steiner's Speakeasy. In addition, the United Way of Ross County will be our guest bartenders this year, so tip big because the donations go toward the 2019-20 annual campaign.
You care about your community and want to have a say in where we go from here. If the past decade in Chillicothe has taught us anything, it's that great solutions and ideas can be found in our midst and we don't have to go searching for them elsewhere. Quint believes that as well and his visit isn't meant to be a session where he gives us a bunch of things to do. Rather, the visit will be meant to help us see a few things we can work on and allow us to address them on our own. So, let's do what we always do, gather, connect, and address our community needs together.
BONUS REASON 1: You join us in appreciating our presenting sponsors: Ohio University Chillicothe, Fluor BWXT, Adena Health System, Petland, Inc., and the Chillicothe Ross Community Foundation.
BONUS REASON 2: Even if you're not a Chamber member or traditionally don't attend the meeting, we'd like you to be there. We believe you'll see the benefits of Chamber membership in action, as well as hear a great message about how we collectively can change the future in our community.
Those are just a few of the reasons to come out and see what the annual meeting has to offer. Click on the link and let's get you signed up.