#BeSafeThinkLocal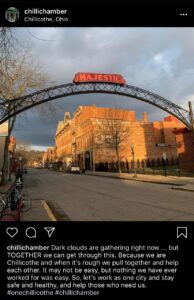 All,
It's been a crazy week in Chillicothe, Ohio, the United States, and the world, for that matter. COVID-19 has many people on edge and the precautions being taken, particularly at the state level are an inconvenience for everyone. It's important that we keep calm, trust the process, and take the precautions we need to flatten the curve.
At the Chamber, we're adopting the motto #BeSafeThinkLocal as a reminder that we're all in this together. First, be safe. Take the guidance about precautions that our leaders are telling us. Yes, they are inconvenient, but it will be worth when we stop the spread.
So, what do we do?
I can't stress enough the information already being disseminated through the national and state officials – if you're sick, stay home; wash your hands regularly; keep hand sanitizer handy; cover the cough or sneeze; greet with a smile instead of a handshake; clean high-touch surfaces regularly to keep them germ free.
Arm yourself with good information, either through the state's COVID-19 web page, or the Centers for Disease Control.
Continue to support your friends and neighbors who own small businesses and work for non-profit organizations.
Buy only what you need. Buying items in mass quantities that others might need is rude and unnecessary.
To maintain social distancing, utilize delivery or drive-up services to help keep a distance.
To help small business:
If you're practicing social distancing, but still want to help your favorite restaurant, buy a gift card for use at a later date, and/or order take out. Many of our restaurants are offering new and creative ways to get your favorite foods. See if you can order a gift card through their web site.
Likewise, with our retail shops, check to see if they have an online store and order your favorite items through the website and/or buy a gift card for a later date.
If you're stir crazy and need to get out [and who won't be after a few days home with the kids – amirite? 🙂 ], consider going at an off-peak time to reduce crowding. Staggering by 15 minutes could help make things less risky.
Tip big. Fewer people ordering food, going out to restaurants or stores, etc. means fewer tips. Be generous with your tips to help them through a tough time.
Just ask. Call your favorite small business and ask them how you might be able to help them best.
Maintain memberships. The inclination might be to cancel a membership to your gym, organization, or other places that rely on your membership dues to operate.
If you know of a small business who is stepping up to help the community, use your social media channels to boost their efforts and show love for them.
Live performers are small businesses, too. Many of them will have gigs and events canceled. Consider supporting their work through a purchase of merchandise, recording, or through a PayPal or other donation. Buy their work directly.
To help non-profits:
Maybe call a non-profit and find out if they have the supplies that they need. If so, do a drive for them. Get your kids to help out.
Pay it forward. If you've been the beneficiary of good fortune, or a good deed, pay it forward – maybe with a financial donation to a non-profit.
Help out. There are plenty of needs right now – good meals for children and others who can't otherwise get them, basic items, maybe even some understanding about work schedules. Be accommodating, within reason. Help find solutions, rather than criticize the inconvenience.
But most of all …
Be kind.
Know this is temporary.
Stay connected, but avoid crowds
And, oh yeah, wash your hands. 🙂
So, #BeSafeThinkLocal and let's get through this together!