Did you know we had a city flag? – Around The Corner – Randy Davies
Did you know the city of Chillicothe has its own flag? It is a cool design that represents our city's history in Ohio statehood. One use to be flown in front of the city administration building, but the flag pole it was on is no longer there, either damaged or just removed.
As we've been updating the surroundings of the Welcome Center in downtown Chillicothe, I've been thinking about where to put flags of our country and state, along with the flag of Chillicothe.
When I worked across the street at Horizon, a city flag turned up from somewhere and I placed it in the company's museum. That was probably more than 10 years ago. Last week I was at Horizon for a meeting and asked if the Chamber could borrow the flag so it could be displayed. I picked it up this morning.
All day, I've been asking those coming into the building if they knew Chillicothe had its own flag. One person did…my wife. The flag was constructed by the Colonial Flag Company in Coshocton. The one pictured has a date on it, March 1, 1974.
I think it is cool that we have our own city flag. I only wish it was more visible and available for purchase locally. We're making a few calls to see if it can be. So if you remember the contest in the mid-70s or who even designed this one…let us know.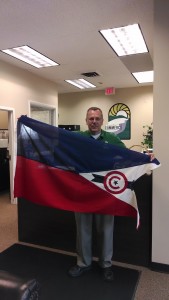 ~ Randy Davies, President/CEO