Who's open? How can we help? Here are a few ways to help!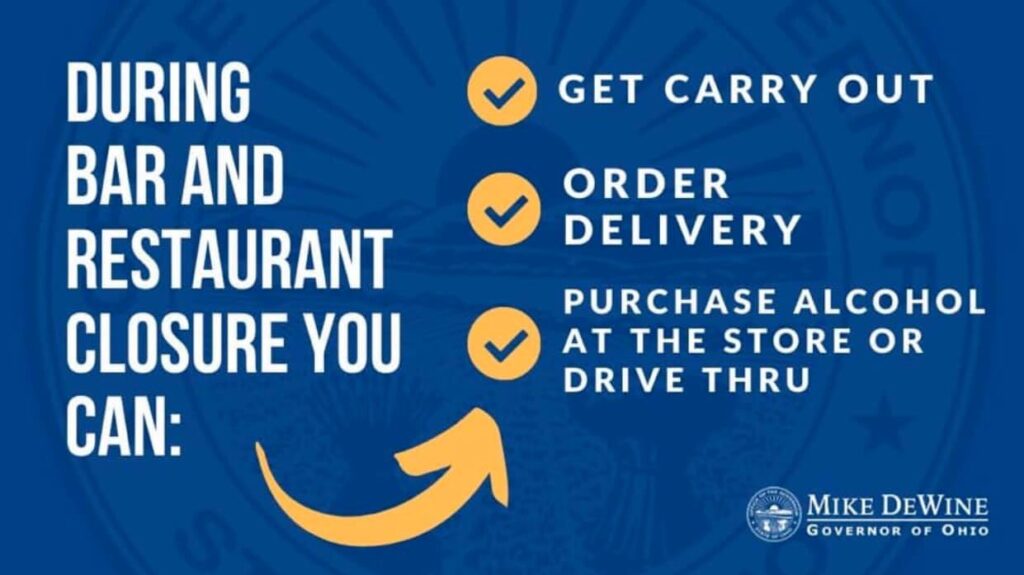 Updated: May 27th, 2020
As part of #BeSafeThinkLocal, we're happy to offer this list of local establishments that offer pickup or delivery options for food, or have online shops for their goods and services.
We're aware this may not be a comprehensive list, so please contact us at 740-702-2722 or email us at mthrone@chillicotheohio.com with any additions or corrections:
Reopening Businesses:
Brick Haven Spa: Massage therapy not available (yet) per state rules. All other services will be available on May 15th.
Carl's Townhouse: Reopening for carry-out on April 30th. Monday – Friday 9am – 7pm, Saturday 9am – 4pm, Sunday 9am – 3pm. Call 740-773-1660 to order.
Chillicothe Antique Emporium: Reopening May 12th, 10am-5pm. Soda fountain orders are to-go only.
Chillicothe Eye Care: Reopening on May 4th. Call ahead to schedule appointment. 740-772-1105
Crispie Creme Donuts: Reopening May 4th @ 5am. Will have customers ENTER the 2nd St. side door and EXIT the Bridge St. side to limit contact. Only selling limited items for now.
D.L. Barker Fashion & Designs: Reopening May 12th. Temp hours are: Tues-Sat, 11am-4pm. Normal hours will resume on June 1st.
Fire and Stone Pizzeria: Open Tues-Sat, 4-8pm for curbside and carry-out.
Globe Furniture: Open as of May 12th. Mon-Wed 8:30am-5:30pm, Thursday – OPEN LATE 8:30am-8:00pm, Friday & Saturday – 8:30am-5:30pm.
Grandpa Joe's Candy Shop: Reopening on Thursday, May 7th with limited hours.
Highlands Ice Creamery: Reopening May 1st (2pm-9pm) for carry-out only.
Ivy's Home & Garden: Storefront open. Mon-Sat 10-8, Sun 12-5.
Jimmy Johns: Storefront open Mon-Sat, 10:30am-9:oopm, and Sunday, 10:30am-8pm.
K. Fischer Portraits: Reopening on May 12th by appointment only. (740) 779-6900.
Lyndi Lou's Children's Boutique: Reopening Thursday, May 14th. Hours are: Thurs: 12-5pm. Fri: 12-5pm, Sat: 11am-3pm. Masks are REQUIRED for patrons inside the shop.
The MADLIN Boutique: Reopening on May 12th for in-store shopping. Hours 12-6pm.
New System Bakery: Reopening May 1st @ 5am. Will be limiting amount of customers inside bakery.
Paint Grill & Patio: Reopening May 4th for carry-out food, beer, and mixed drinks. Call (740) 773-1580.
Paradise Glo Tanning Salon: Reopening Friday (May 15th) at 9am. Temp hours: 9am-7pm daily.
Rustic Gals Boutique: Storefront Open. Tues-Thurs, 11am-4pm, Friday 11am-6pm, Sat 10:30am-4pm.
Sports Plus: Open Mon-Fri, 12-4:30pm. Email: sportsplusgraphics@hotmail.com, or call 1-740-775-0606 to set-up an appointment.
Sweet William Blossom Boutique: Storefront closed but currently taking orders for Mothers Day. Learn more information HERE or visit their facebook page.
Tecumseh Trading Co: Reopening in the first week of June for a short time, then closing permanently.
Wheatberry Books: Reopening Tuesday, May 12th. Open Mon-Sat, regular store hours. Vulnerable population from 10am-12pm. Visit their Facebook Page for updates.
RESTAURANTS/BARS
7 Miles Smokehouse: Open 11am-7pm for carry-out. Delivery runs daily from 11am-1pm and 4-7pm. Prefer orders to be paid with via credit or debit card. 740-851-4015.
Buckeye Cafe Open Monday through Friday 7 a.m. to 2 p.m. for take-out. Breakfast, lunch, baked goods, coffee, and specialty drinks.
Casa del Taco: Open for drive thru service only.
Chillicothe Country Club: Front porch pick up and delivery available from 4:30 to 7 p.m. on Wednesday and Friday. Revised menu can be found here: Menu 1, Menu 2, Menu 3
Corky Que: Daily specials. Open 11am-4pm. Kids eat free!
Cozy Inn: Open for carryout. Six packs of beer, bottles of wine/champagne, and the full menu. Delivery is available for the Chillicothe city limits and pick up is an option. Call ahead at 740-775-9195
Crazy Dogs Grill: Open daily (except Tuesday) for carry-out orders. They also offer delivery through Door Dash. 740-851-6430.
First Capital Nutrition: Carry out options only. Place a to-go order in person, or direct message them on Facebook or Instagram with name, order, and what time you expect to pick it up.
Frisch's Big Boy: Daily Specials. Open for carry-out.
Giovanni's of Chillicothe: Pick up and carryout service during regular business hours.
Hometown Hibachi: Effective Monday, March 16, only accepting take-out orders. Also have carryout beer/alcohol available.
Jerry's Pizza West: Drive-thru open from noon to 9 p.m. on Monday, 11 a.m. to 9 p.m. Tues/Wed/Thurs, and 11 a.m. to 10 p.m. Fri/Sat. Call 740-773-9378 to order.
Jerry's Pizza Paint: Same hours as West. Call 740-773-1200 to order and pick up at curb.
Jimmy Johns: Open for delivery. 10:30am-7pm. No delivery fee & will deliver anywhere within Chillicothe city limits.
Lake White Club: Open for carryout and delivery. Thurs-Sat 4-8pm. Menu can be found HERE.
Mali's Asian Express: Open for carryout daily. 11am-7pm. 740-771-3601.
McDonalds: Drive-thru open. Also offering free delivery on orders of $15+ through DoorDash.
Old Canal Smoke House: Full menu offered, but only delivery, carryout, or curb side pick up.
Papa Johns: Open for regular business hours for both carryout and delivery with the exception of offering"no contact" deliveries. Monday-Thursday, 10am-11pm for carryout (12am for delivery), Friday & Saturday 10am-12pm for carryout (1am for delivery), Sunday 11am-10pm for carryout (11pm for delivery). They also allow calls from their parking lot and they will carryout to you.  Payments with card are strongly preferred.
Paxton Restaurant in Bainbridge: Open 11 a.m. to 7 p.m. Monday-Saturday for carry out. Daily specials. 740-634-2922
Penn Station: Curbside service available. Phone in (740-772-6100) or order online. Food Drives starting Monday April 6th for Local Food Pantries! Bring in canned goods, Dried goods, Personal Hygiene and anything else you can think of that can help Ross County families.  With donation, you'll receive 20% off your order.
Raising Cane's: Drive-thru open. Normal business hours.
Red Lobster: Open for carryout and delivery with DoorDash. Carry out orders receive 15% off.
Roosters: Open for carryout – pick up and a full menu 740-774-9464. **Now offers online ordering on their WEBPAGE. Just place an order, pay for the order, and then let them know when you arrive and they will bring the order out and place it on a table for you to grab and go.
Rost Coffee: Full menu available, but all orders will be to-go. Pick up and delivery also available. 7am-7pm, Mon-Fri.
Steiner's Speakeasy: Steiner's will be delivering every Wednesday, Friday and Saturday. The delivery menu is under the cocktail tab on the website. Email steinersdelivers@gmail.com. You will receive an invoice for payment. Once payment is received, a confirmation will be sent with an approximate delivery time.
Sumburger Bridge St: Open all week. Offering full curb service or call ahead pickup window. Hours fluctuate, call ahead (740 772-1055). Plenty of room for semi-trucks!
Taj Mahal Indian Grill: Offering carry-out and delivery. Free delivery from Door Dash until March 29th. 740-773-5577
Texas Roadhouse: Call ahead curbside service available 11am-7pm. Family packs available (feeds 4): choice of meat, large salad, 4 sides, and 12 rolls with honey cinnamon butter. Just $39.99. Call 740-672-2393. Stay up-to-date with their facebook page.
The Market at Schlegel's: Accepting orders for carryout via online portal. For every 4 meals sold, The Market at Schlegels will donate a meal to a health care provider or educator in the area.
The Old Canal Stop: Open until 9pm everyday starting Monday, March 23rd. Plenty of carry-out options. 740-702-2700
The Pour House at Machinery Hall: Open each Thursday from 4-6pm for Thirsty Thursday. 50% off draft beer, pick 6-pack for $11, wine by the bottle, family 4 pack of street tacos for $20, black raspberry bean and NEW THIS WEEK: to-go COCKTAILS. Cash Payments preferred. Also selling gift cards.
Tumbleweed: Not open for dine-in, but menu available for pickup, carryout, or possible delivery ($2 charge, delivery radius may vary). Call 740-779-6195 to place an order. Order online HERE.
Wagner's Roadhouse: Open for carryout only, 10am-9pm. Full menu and carryout beer available with specials everyday. Find their menu HERE and HERE. Call 740-771-4450 to place your order.
Whit's Frozen Custard: Regular hours of operation, 11 a.m. to 9 p.m., with dine-in closed, but carry out of all menu items available.
BUSINESSES WITH ONLINE STORES or E-GIFT CARDS
Brick Haven Spa: Business closed but e-gift cards available.
Central Center Hardware: Storefront open. Mon-Sat 8am-6pm, Sunday 10am-5pm
Cranberry Boutique: Free shipping on orders. Offers Sezzle, which is an extended-payment plan for items. E-gift cards available.
Double D's Auction House: Doing Facebook live auctions on Fridays.  Using application apro.bid. for payment. Bidders will have to sign in to bid. Webpage can be found here.
Grandpa Joe's Candy Shop: Offering curbside deals daily and have delivery through DoorDash. Free shipping on any purchase above $20 online.
Hastings Electric: Storefront open M-F 9am-5pm, Sat 9am-2pm (closed Sunday).
Hatch Boutique: Online store is up and open for business. Pick-up times available for items bought online.
Hometown Threads: Selling T-Shirts through their website for "Together in Hope" fundraiser. All proceeds from T-Shirt sales go to local charities/charitable efforts during COVID-19 pandemic. Facebook page can be found here.
Ivy's: Selling items online daily through Facebook and facebook group Club ivy's
Kindly Boutique: Selling gift cards through Facebook page.
Office City Express: Open daily. Normal business hours. Call (740) 774-2181 to reach Chillicothe office.
Picture This/OSU Sports Fans: Storefront closed. Online store stocked with items for curbside pickup. 740 703-5050.
Porch Swing Days Antique Shop: Facebook live twice per week and reducing prices. Purchased merchandise is delivered to your porch.
Tecumseh Trading Co: Online store full of merchandise. Also selling tickets for 2021 Tecumseh showings.
The MadLin Boutique: Store closed, but online store is still live and offering free shipping.
Totem Supply Co: Online store is up-and-running. Now through the end of April, use code: TOTEM20 at checkout for 20% off of your total purchase.
Rustic Gals: Store-front closed. Fully-stocked online store with free shipping. Follow their Facebook page for more items.
Wheatberry Books: Storefront closed. Online store is stocked with items and e-gift cards.
WAYS TO FEED HUNGRY CHILDREN
Chillicothe & Ross County Public Library: While the library will close at 5 p.m. on Monday, March 16 and remain closed until further notice, the library has partnered with the Children's Hunger Allliance to provide a healthy meal at the following locations from 4 to 5 p.m. Monday through Friday. More information available at the library's website.
Corky Que: Kids eat free from the children's menu – sandwich, chips, and a bottle of water – Monday through Friday 11 a.m. to 4 p.m. Located on Eastern Avenue.