Adena Health System adds six new providers
CHILLICOTHE, OH (Jan. 28, 2021) – Adena Health System is expanding its care for patients with the addition of six specialty providers, across multiple service lines. These incoming physicians and advanced practice providers are delivering even more options for comprehensive, close-to-home care for our patients throughout the region.
Adena is pleased to welcome:
Brenda Mershon, Certified Nurse Practitioner joins Adena Kidney Specialists caring for patients in Chillicothe. Mershon earned her Family Nurse Practitioner degree from Marshall University in Huntington, WV.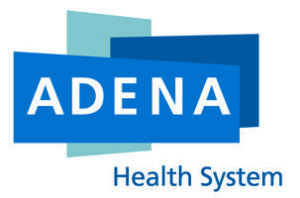 Kirk Rankine, MD is now accepting new patients with Adena Kidney Specialists, seeing patients in Chillicothe, Circleville, Jackson, Washington Court House and Waverly. A board-certified nephrologist, Dr. Rankine earned his medical degree from the State University of New York Upstate Medical University.
Emily Reynolds, Certified Nurse Practitioner is now seeing patients at Adena Urgent Care locations throughout the region. Reynolds has been with Adena for eight years previously working as a staff registered nurse and patient care coordinator. She earned her Family Nurse Practitioner degree from the Chamberlain College of Nursing.
Matthew Weaver, Certified Nurse Practitioner, is welcomed to the growing team of providers at Adena Urgent Cares. Weaver returns to Adena having cared for patients with Adena Occupational Health during his clinical rotations. He earned his Master's degree in Nursing from The Ohio State University.
Brittany Weeks, PsyD is now caring for patients at the Adena Counseling Center. Dr. Weeks is a graduate of Marshall University in Huntington, WV, where she earned her doctorate degree in Clinical Psychology.
Laura Wells, Certified Nurse Practitioner comes to Adena Cardiology caring for patients in Chillicothe. Wells earned her Adult-Gerontology Acute Care Nurse Practitioner Specialty degree from the Mount Carmel College of Nursing.