We're back! Announcing the return of Business After Business and Puttin' on the Ritz
It's been 196 days, or 28 weeks, or 6 months and 12 days since our last true in-person event, the 2020 Annual Meeting.
Who's counting, right?
We understand the reasoning behind limited gatherings and social distancing, but it's been tough to cancel our Business After Business and other events.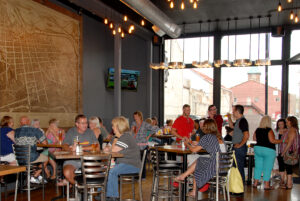 Today, we're announcing the return to some normal events – ones reviewed and approved by the Ross County Health District. In fact,
BAB will return on Wednesday, Oct. 21 at The Pour House at Machinery Hall
; and our annual mini-golf event,
Puttin on the Ritz,
will happen just one week later, Wednesday, Oct. 28, at businesses throughout downtown Chillicothe.
The BAB will have a limited crowd size and social distancing and masks requirements (not while eating or drinking, mind you) in place, but we'll be gathering once again. We've made a few changes to Puttin' (no gathering for food afterward, bringing your own ball and putter, etc.), but the essence of the event is preserved. You'll still be able to dress up as your favorite Hollywood characters and have a good time, but you'll need to distance and stay safe.
It's important to note that we couldn't have done this without the help of some amazing partners – particularly the Ross County Health District and The Pour House. In the case of the health district, their environmental health staff reviewed plans for both events, engaged us in discussion, and believe we can achieve an event that will give people a fun night out, while staying safe. They were great to work with and really supportive of our effort to keep things safe.
The Pour House stepped up when the initial sponsor of BAB pulled out due to COVID-19. Ben Daughters and Nikki Ross have worked hard to figure out how to distance everyone who wants to attend. In the case of Puttin' on the Ritz, our downtown merchants have stepped up to the plate to provide a safe, but fun, experience for those who want to participate.
We're still doing some of our other events. While we haven't done a Women in Business Luncheon since February, we've held one small gathering of the women for some fun and have another planned. Our Health Network Meetings could soon return and we're looking at a series of virtual options for Small Business training as well. In fact, take our survey to help us determine the most needed training we can offer.
As far as future BAB events go, we're taking them month by month. We're already out for November's Business Expo – one of our biggest events of the year – as the distancing guidelines would diminish the experience for participants and attendees. But we're working with future BAB hosts to determine if we can keep everyone safe while we're helping businesses connect.