Chamber co-sponsor of Fair contest – Around The Corner – Randy Davies
Hundreds of people converged on the Ross County Fairgrounds this past weekend to begin a week of celebration of summer-long projects, enjoy rides, reconnect with friends and, of course, enjoy some great food.
The Chamber was proud to be a co-sponsor this year, along with Kingston National Bank, for the Jr. Fair King-Queen Contest. There were five young men and eight young ladies vying for this year's crowns and opportunity to represent our great fair for the next year. The grandstand filled up nicely as the contestants began answering questions from emcee Todd Holdren and also talked about their fair activities.
After the tough questioning, the judges came back with their decision and this year we have twins as our top royalty. Nathaniel and Elle Lamb, both 17 years old and soon-to-be seniors at Adena High School, were chosen as King and Queen. They are members of the Clarksburg Jolly Beef Feeders 4-H Club and their parents are Marc and Penny Lamb.
The fair is a special time of year, bringing the summer to an end and gearing up for school to begin. But during one week of the year, the second largest community in Ross County is situated along SR 104 and SR 207. I hope you get to enjoy the fair this year and extend a special thanks to all of the Chamber members who spend their time supporting our future business leaders as they exhibit and purchase livestock throughout the week.
We'll see you at the fair!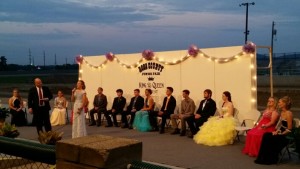 ~ Randy Davies, President/CEO