Welcome, ParkMobile! Avoiding a parking ticket has never been easier in downtown Chillicothe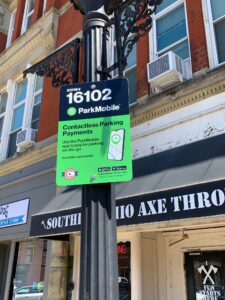 Beginning in May, the City of Chillicothe will resume enforcement of downtown parking regulations. Refurbished meters and a parking enforcement officer will be a part of the enforcement, but the newest addition is a new mobile app to make paying for parking fast and easy.
**Read our FAQs about downtown parking enforcement**
The ParkMobile app provides an on-demand, touchless, and simple process to enjoy a visit to the First Capital District, while also keeping traffic moving and businesses healthy. You simply download the app from wherever you get your phone's apps and use it at more than 200 on-street spaces and off-street lots.
To pay for parking using the mobile or web app, a user enters the zone number posted on signs around the parking spot, selects the amount of time needed, and touches the "Start Parking" button to begin the session. The user can also extend the time of the parking session on their mobile device.
**View a ParkMobile flier about the parking app process**
The meters will still take coins, but the convenience of the app allows you to add time to your meter if you lose track of time when you are enjoying your visit and time is about to elapse. 
Some will complain about parking enforcement, but it's really the safest and simplest way to address illegally parked cars, keep traffic moving, and help businesses preserve  their investment into our community. The fact is we'd prefer to write tickets to habitual violators, not casual visitors, to keep our streets safe. 
There will be a short period of grace for parking violators at the beginning of the enforcement period, to allow everyone to get used to the new system. 
ParkMobile is the top parking app in the United States, with more than 22 million users – including more than 300,000 users throughout Ohio. If you download the app, you'll be able to use it in Columbus, Cincinnati, and Dayton, among other cities.