Small businesses need your support and help this holiday season
The holiday season is one we look forward to every single year. This year, we might be looking forward to it more than usual as COVID-19 has limited (and canceled) so many things in 2020.
As they do each year, businesses have a renewed interest in the holiday season, as it's been a tough year because of the COVID-related shutdown and reopening restrictions.
It's not business as usual with the holiday season this year, but we've done as much as we could to make to keep some normalcy while also keeping things safe. Our small businesses have been hit hard, so we're hoping you think of them first as you start your holiday shopping.
Downtown Holiday Open House
We will still have the Open House from Friday, Nov. 20 to Sunday, Nov. 22. (Gazette story) Our merchants will host customers with their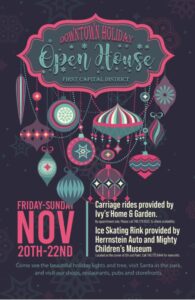 usual great deals on many unique items you can't find elsewhere. Please be aware of the current guidelines and comply with them with a renewed emphasis on distancing and mask-wearing rules. Remember, the businesses are merely abiding by the rules that keep them open and serving you. There may also be a wait to get into your favorite store, restaurant, or bar, so please be patient.
While carriage rides will still occur at Ivy's Home and Garden (at Paint and Water streets), they are available only by reservation. Please call them to make sure they have spots open. Mighty Children's Museum's ice skating rink, at 4th and Paint streets, will also be up and running, but they are sorting through final details.
The Santa House is moving down into Yoctangee Park to provide a drive-up/drive-thru experience. Santa will be available to talk to the children from the porch of the Santa House. He will be there each Friday (5:30 to 8 p.m.), Saturday (4 to 8 p.m.), and Sunday (1 to 4 p.m.) from Nov 20 to Dec 20.
And finally, the downtown lights will be up, and the big tree in Bicentennial Park will be decorated again this year. Our friends and partners at Bright Solutions of Ohio and Light Up Columbus are busy as we speak, hanging lights and getting the decorations in order. We'll flip the switch later this week and bring a little cheer to everyone's holiday, but we won't have an official lighting ceremony in 2020. The decision to cancel the ceremony was a tough but necessary one. It's just not safe or wise to bring 1,000 people into close contact with each other by providing a lighting ceremony. The ceremony is a great way to kick off the holiday and the Open House, but we'll have to forgo it for this year.
Small Business Saturday
Our small businesses throughout Ross County have come to appreciate the final Saturday in November and the sales it brings. Small Business Saturday is Saturday, Nov. 28, and we're hoping that you'll help the people who help you by shopping and buying local.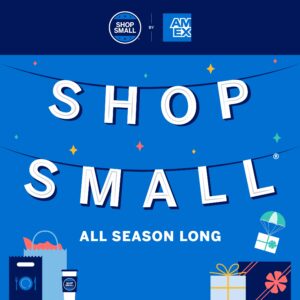 This year's celebration is the 11th Annual Small Business Saturday. Since it started in 2010, consumers have reported spending an estimated $120 billion across all Small Business Saturdays combined. That's $120 billion toward helping communities thrive, spent over just ten days alone.
To drive shoppers to Shop Small® this Nov 28, the Chamber is participating in the American Express® Neighborhood Champion Program to spotlight small businesses and the impact they have on communities. According to the 2019 Small Business Saturday Consumer Insights Survey, 97% of consumers who shopped on Small Business Saturday agree that small businesses are essential to their community. 95% reported the day makes them want to shop or eat at small, independently-owned businesses all year long, not just during the holiday season2.
And if you can't come down on either weekend, maybe it's best to spread out your trips to do holiday shopping to avoid large crowds or be able to maintain social distancing. Regardless of when you do your holiday shopping, we hope you think of our small businesses first. They're the ones who employ our people and support your youth sports teams, fellow businesses, school events and fundraisers, and much more.