M.A.S.H. Honor Gardens now open in Chillicothe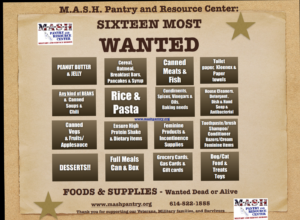 A new M.A.S.H. Honor Garden for veterans has opened in Ross County. The garden/greenhouse will be located at Forest E. Everhart Golf Course on the V.A. Medical Center grounds.
Please visit the following link for details:  https://www.mashpantry.org/chillicothe-pantry/
Furthermore, we have a new program, M.A.S.H. Honor Gardens (Greenhouses), and one of the eight, 10×12 Greenhouses is located at: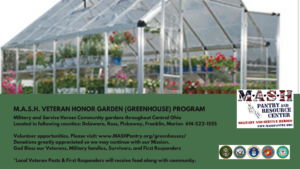 Freedoms Path Veteran (Low income) Community (located on Chillicothe VA campus) – Michelle Wilson, Property Manager, 461 Hines Blvd., Chillicothe, Ohio 45601.  Greenhouse/garden link:  https://www.mashpantry.org/greenhouses/
The pantry and greenhouse is looking for the following items:
Pantry ideas: food and personal hygiene drives (flyer attached), cloth bags with handles, *decorated brown grocery bags for distribution.
Greenhouse/Garden ideas: One time – benches, hoses, soil, pots, tools, etc.  (May need assistance to build greenhouse –  delivered today, Wednesday, March 17th).