American Pickers looking for you – Around The Corner – Randy Davies
I have a confession; I love reality shows. Often times it doesn't matter what they are about, it seems I just get sucked into them. One of my favorites isn't really considered a reality show, but a really cool show about the explorations of two guys from Iowa that love to dig through people's "treasure". You guessed it, it is one of the History Channel's top shows, "American Pickers".
Well guess what!? There may a possibility of Mike Wolfe and Frank Fritz coming to Chillicothe and Ross County – but we need your help in getting them here.
I received a call this week from the producers of the show asking for our help to locate spots for the team to come pick. Filming is tentatively scheduled for October. They are on the hunt for interesting characters with interesting and unique items. Some of what they look for: vintage bicycles, toys, unusual radios, movie memorabilia, advertising, military items, folk art, vintage musical equipment, vintage automotive items, early firefighting equipment, vintage clothing, pre-50's western gear, and more.
How cool would it be to have Chillicothe featured on this nationally televised show? Mike and Frank are on a mission to recycle America, restore forgotten relics to their former glory, and learn a thing or two about American history along the way. I think we can share that with them here in Ross County.
So think about what you have or someone you may know and email your name, phone number, address and description of the collection plus any photos to rdavies@chillicotheohio.com. I'll forward the information to American Pickers producers and let's keep our fingers crossed that we are selected for one of their Ohio visits in October.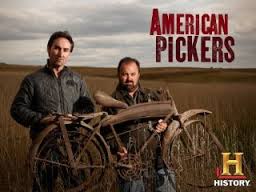 ~ Randy Davies, President/CEO