You're Invited to Ross County Safety Day!- The Work Zone- Briana Hood
Ross County Safety Council will be hosting their annual kickoff picnic on Thursday, September 10th at the Ohio University-Chillicothe ERTC facility. This newly renovated facility features a number of safety training areas including demonstrations, an active shooter building and much more.
It is our hope that every business in Ross, Pike, and Jackson counties participate and learn more not only about Ross County Safety Council but about the local safety training opportunities the ERTC, fire departments and police departments have to offer. For example, did you know that your local fire department may teach CPR and first aid?
Interested attendees can register at the following link – Click Here to Register
For more information about Ross County Safety Council, Safety Day or sponsorship opportunities please call 740-702-2722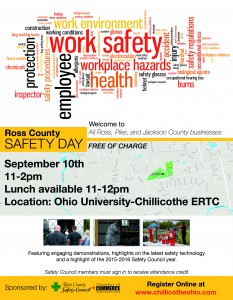 ~Briana Hood- Workforce, Safety Council and Office Manager