A 'principal place' once again, Chillicothe hosts Secretary of State Frank LaRose
As many of its citizens know, the city's name is derived from the Shawnee word for a principal leader's home. Since its inception, Chillicothe has been known as a place where leaders make their homes. We've lived up to that name ever since, being a place where presidents and presidential hopefuls come to find the pulse of a state – and a nation.
More recently, many around the state have come to see what we've accomplished in the past decade. As evidenced in our revitalized downtown and commitment to handling the continuing opiate crisis with locally generated solutions, our renewed sense of place is just two examples of how we've shown the way for other Ohio communities.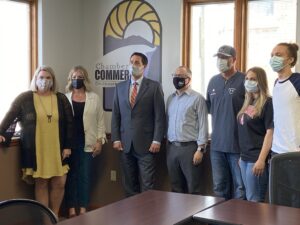 Then, it was no surprise when Secretary of State Frank LaRose asked us to put together a small group of small business owners to talk about business conditions and the impact of COVID-19 on the local economy. After all, Gov. Mike DeWine, State Treasurer Robert Sprague, and Lydia Mihalik, director of the Ohio Development Services Agency, are just a few of the state officials who have visited here the past few years.
LaRose has two principal duties in his office: Running elections and helping entrepreneurs start businesses.
LaRose sat for about 90 minutes last week with our small business entrepreneurs, including Todd and Bethany Snowden of EXIT First Capital Realty and Creekside Occasions, Cameron Snowden of Buckeye Designs and Engraving, Deidre Rowland of Kindly Boutique, and Bobbi Blanton of Cranberry Boutique and Brick Haven Spa.
He heard the good, bad, and ugly of 2020 that was truly difficult for small businesses. Still, one thing was also evident: The community carried our small businesses, and, in turn, those entrepreneurs are very grateful. LaRose heard how each of the companies changed their strategy to adapt to the choppy COVID seas.
After the session, we walked a block west to present Brick Haven Spa, co-owned by Blanton and Stephanie Truitt, with a proclamation in honor of their selection for the March Business Spotlight from LaRose's office. He's a northeast Ohio guy, so he hadn't been to Chillicothe much, but he left incredibly impressed.
And, more importantly, we'll probably get him back in Ross County soon. He's an avid kayaker and loves to hike with his family. It's safe to say we promoted a float on Paint Creek and a pleasant stroll through the trails in Great Seal State Park, Buzzard's Roost, and many others. Just in case, we sent him back north with a Ross County Trail Guide and Visitor's Guide from the Convention and Visitors Bureau.
The secretary's visit spotlights that Chillicothe remains a special place – a "principal place" in Ohio.