An update on the Hopewell Ceremonial Earthworks bid for World Heritage designation
(CHILLICOTHE, OH) – The Ross-Chillicothe Convention & Visitors Bureau would like to provide an update to the community regarding the Hopewell Ceremonial Earthworks World Heritage nomination. The Ohio History Connection in consultation with the National Park Service continue efforts in preparing the application dossier as part of the nomination process. This dossier will be the official document submitted and reviewed by the International Council on Monuments and Sites (ICOMOS) on behalf of the World Heritage Committee.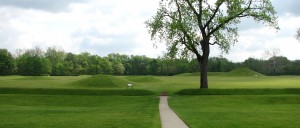 Currently, the projected timeline reflects that work on the application dossier will continue into summer and possibly into fall of this year. However, it is anticipated that the U.S. Department of State may submit the completed dossier to the World Heritage Committee in early 2022 which then could be reviewed by ICOMOS in late 2022 or early 2023. Unfortunately, this timeline is not fixed so it is possible that due to processes or events beyond the control of stakeholders that this timeline could be delayed.
"We are optimistic that the Hopewell Ceremonial Earthworks will be on the World Heritage List in just a few short years," said Burt Logan, Executive Director and CEO of Ohio History Connection. "Our work continues to bring this prestigious recognition to Ohio."
Recently, Ohio has been invited to present on the significance of the Hopewell Ceremonial Earthworks nomination to the United States International Committee on Monuments and Sites (US/ICOMOS). Ohio History Connection representatives will share insights during this presentation on why the Hopewell Ceremonial Earthworks deserves to be included on the prestigious World Heritage List. Chief Glenna Wallace of the Eastern Shawnee, Hopewell Culture National Historical Park, and staff from the Ohio History Connection will share remarks during the presentation. Being invited to present in this forum is an honor reserved for sites already on the World Heritage List and those nearest to potential designation.
The Hopewell Ceremonial Earthworks nomination includes 2,000-year-old American Indian Earthworks sites in central and southern Ohio. The Newark Earthworks in Licking County and Fort Ancient in Warren County are Ohio History Connection sites; the National Park Service owns the five sites of Hopewell Culture National Historical Park in Ross County which make up the nomination. There are currently only twenty-four sites within the United States that are recognized on the World Heritage List. The Hopewell Ceremonial Earthworks would be the first World Heritage inscription for the state of Ohio.