Adena mass vaccination clinic now open
CHILLICOTHE, OH (March 29, 2021) – As announced by Ohio Governor Mike DeWine earlier this month, Adena Health System will serve as one of 15 mass vaccination clinic sites throughout Ohio significantly expanding regional access to COVID-19 vaccines. Adena is set to receive the one dose Johnson & Johnson vaccine to begin administration as a mass vaccination clinic site on Wednesday, March 31 at the PACCAR Medical Education Center, located on the campus of Adena Regional Medical Center in Chillicothe.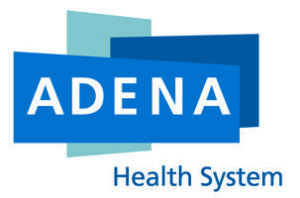 Each regional mass vaccination clinic will be locally operated with support from the Ohio Department of Health and Ohio Emergency Management Agency. Adena's clinic will be equipped to administer thousands of vaccines a day depending on supply and demand.
"As a rural health system with a mission of being called to serve our communities, it is a tremendous honor to be asked by the Governor and assist our state officials as one of Ohio's mass vaccination clinic sites," said Jeff Graham, Adena President & CEO. "Vaccines are our best defense against COVID-19, and it is a privilege to collaborate with our healthcare partners across the region and state in this coordinated effort to ensure all individuals have an opportunity to receive the vaccine as it becomes available."
Adena's mass vaccination administration is by appointment only.
Vaccination appointments can be made by individuals 18 years of age and older by calling 1-833-4-ASK-ODH (1-833-427-5634) or visiting gettheshot.coronavirus.ohio.gov.
The vaccine is being offered at no cost.
WHERE:          PACCAR Medical Education Center
446 Hospital Rd
Chillicothe, OH  45601
Parking – FREE
WHEN:            
Tuesday – Friday
8 a.m. – 5 p.m.
Individuals with appointments to receive their vaccination through Adena are asked to bring photo identification and be prepared to wait approximately 15-30 minutes following their shot for monitoring. This is not a drive-thru vaccination location.