Chamber board endorses library renewal levy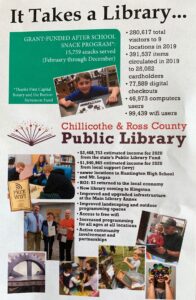 The board of directors of the Chillicothe Ross Chamber of Commerce recently voted to endorse the 1.5-mill renewal levy for the Chillicothe & Ross County Public Library. The issue will appear on the March 17 primary ballot in Ross County.
"The library is a community leader in addressing important community issues, and what they do goes beyond books to offering workforce development resources to help grow job skills and help with job searches," said Mike Throne, president and CEO of the Chamber. "They don't stop there, though, they've worked hard to improve school readiness for our young people, which is also critical to developing our workforce. We support a 'yes' vote on March 17."
The board's endorsement comes after the library's levy committee met with the Chamber's Advocacy Committee, which recommended approval to the full board, which concurred with the move. The library is also a member in good standing with the Chamber.
"It takes a library," said James Hill, Director of the Chillicothe & Ross County Public Library. "Libraries are important to our communities for entertainment, education, and resources. From books and programs to free WiFi and tax forms, wherever you are in life, at whatever stage, the library has something for you."
The Advocacy Committee also said the library levy fits within the Chamber's stated mission to address "issues important to business."
Get more information at itakesalibrary.org.
Some local statistics for how the library impacts Ross County:
More than 280,000 visitors across nine locations in 2019
More than 391,000 items circulated to more than 25,000 cardholders in 2019
Nearly 100,000 WiFi users in 2019
The return on investment: $1 invested in the local library is worth $3 to the local economy
Newer locations at Huntington school, and in the Mt. Logan Community Center; and a new library coming to Kingston.
Grant-funded afterschool snack program served nearly 16,000 snacks from February to December 2019