Celebrate Chamber Week with us!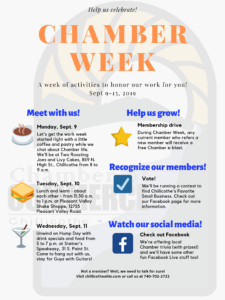 The Chillicothe Ross Chamber of Commerce works hard each day to promote economic and community development by providing services and addressing issues important to business. Each year, National Chamber of Commerce Week hopes to spotlight the connections between the community, businesses and the Chamber across the country.
This year, we'd like you to celebrate with us. We have a variety of events planned for Sept. 9-13 that you can connect with us, not to mention a few surprises and other things along the way. Here's how you can connect with us:
Monday, Sept. 9: 8 to 9 a.m., at Two Roasting Joes and Livy Cakes, 659 N. High St. Come enjoy locally roasted coffee and delicious pastry with us and chat about things going on around Ross County or Chamber offerings.
Tuesday, Sept. 10: Noon to 1 p.m., at Pleasant Valley Shake Shoppe, 12755 Pleasant Valley Road. Join us for Chamber talk and lunch.
Wednesday, Sept. 11: 5 to 7 p.m. at Steiner's Speakeasy, 31 S. Paint St. It's Hump Day and let's unwind with some drink specials (we hear $5 drafts, wine, and Hooch) and a little food as we host a Happy Hour. Come to hang out with the Chamber, stay for Guys with Guitars!
We're also hosting a Chillicothe's Favorite Small Business contest and will name the popular vote winner on Friday, Sept. 13. We'll also host some special Facebook live trivia with prizes and other social media fun. Check our Facebook page for more information.
In addition to those events, we'll also be very busy with the events that we plan for membership each month, such as:
We kickoff the B.I.G. (Business Industry Government) Class for 2019-2020 Wednesday at the Chamber.
We'll co-host a FREE Marketing Your Business seminar with Thrive Chillicothe! from 8 to 10:30 a.m. Thursday at Tabernacle Baptist Church, on East Main St. Interested? Click here to see the event.
The regular meeting of the Chamber-sponsored Ross County Safety Council comes at 11:30 a.m. Thursday.
Later that day, our Young Professionals group, EPIC, will host Brews and BBQ, a barbecue and craft beer event, which starts at 5 p.m. on Second Street in front of the Majestic Theatre. Admission is free and the food and beer will be available for a price.
The Chillicothe Ross Chamber of Commerce programs include the Ross County Safety Council, Discover Downtown Chillicothe, Workforce Development, EPIC (Young Professional Network), Health Network, plus other seminars and events throughout the year.
More information and registration for many of these events can be found by calling 740-702-2722.