Project Statement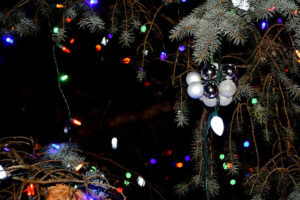 Light the Park is a group of businesses and individuals dedicated to creating a quality holiday lighting display to serve residents and draw visitors to our revitalized downtown.
The project largely focuses on Yoctangee Park, where we will locate Santa's house, the Mighty Children's Museum's ice-skating rink, and other holiday features to create a vibrant display of holiday color and attractions. We use uplighting and wrapping of trees, along with lights and lighted holiday decorations to light park structures.
Our costs include the purchase, installation, maintenance, and storage of the lights and other elements, as well as marketing, signage, and other costs related to maintaining the relationships with our donors. We work with a 501c3 organization to keep all donations tax-deductible.
In the future, we will maintain and, with some infrastructure improvements in the park, grow the lighting display. In addition, we hope to create a "Christmas village" by bringing all holiday elements into the park to form a tight, walkable circle of holiday decorations and lights that will be great for families and visitors to enjoy. We'll also work with other partners to grow the light displays into the heart of downtown, creating a "Hallmark movie" atmosphere. 
***Check out the video of the 2021 Tree Lighting Ceremony***
We'd like to grow the fundraising effort by at least $10,000 each year to allow for maintenance and new projects.
2021 Light the Park is most successful to date
The 2021 Light the Park fundraising campaign has been our most successful to date. More than $80,000 raised!
We want to thank co-chairs Marsha Wagner and Terressa Reep, along with Beth Neal, for their hard work and determined effort to raise the money.
Our campaign is set up as a sustaining effort to help us see Chillicothe shine for years to come. Thank you also to Metropolis Design Studio, Printex, Bright Solutions of Ohio, and Light Up Columbus for their installation and promotional efforts this year.
Special thanks to our 2021 Santa Sponsors, Tomlinson Insurance/The Tomlinson Group of Keller Williams Real Estate, to help Santa greet our children this holiday season; and to Erica Oliver, who spruced up the Santa House inside and out for this year.
We are so grateful to:
Adena Health System and Mares Cares Counseling Centers
Ed Kunzelman, Janney Montgomery Scott, Chillicothe Restoration Foundation, Herrnstein Auto Group, The McKell Families of Robert, David, Joseph, and Thomas.
Tomlinson Insurance/The Tomlinson Group of Keller Williams Excel Realty, Kenworth Truck Co., Haller Funeral Home, Huntington, Hirsch Fruit Farm, The Doersam Family, Kingston National Bank, 40et8 Voiture/Ross County Veterans Council/VFW Post 108/Jhan and Joan Corzine, Chillicothe Ross Chamber of Commerce, Corner Market.
Friends of the Elks, The Pour House at Machinery Hall, Rotary Foundation, Sunrush Construction, Marsha Wagner, Chillicothe Monument, Connie Meyer, Donald and Janet Russell, Nathaniel Massie – Daughters of the American Revolution, Bright Solutions of Ohio, Wagner Rental and Supply, Metropolis Design Studio.
Whited, Seigneur, Sams & Rahe, LCNB Bank, Atomic Credit Union, Nourse Family of Dealerships, Gail Stout, Deb Russell, The Rooney Family, Judy Bennett, State Electric, Valero Renewable Energy, Atomic Credit Union, Grandpa Joe's Candy Shop.
John and Linda Claytor, Terressa Reep, Julie's Shop on Paint, Grandpa Joe's Candy Shop, Sandy Wolfe, Lisa Cardinale, Marcia Hoey, Anita West, Shawna Detillion, RISE Realty in memory of Mary McQuirt, Dr. Patricia Haller, Optometrist, Highland's Ice Creamery, Globe Furniture, Steve and Vicki Anthony, John and Linda Claytor, Picture This, Chillicothe Country Club, Southern Ohio Eye Associates, Goodwill Industries of South Central Ohio.
To donate to Light the Park, please call 740-702-2722.