What our Chamber does, and doesn't do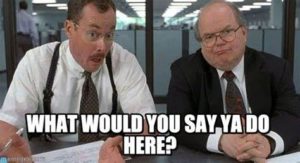 It's a good question. What exactly does a Chamber of Commerce do?
There are the easy things – ribbon cutting/groundbreaking, annual meeting, the golf outing, etc. – but there's more to a Chamber than just planning events, so here are a few of the essential things that we do regularly that help business.
We connect businesses.
One of the biggest things we do is create an atmosphere for businesses to meet and do business together. We host a variety of events that help companies identify potential partners and capitalize on those opportunities to grow their business – and sometimes, both businesses grow as a result. Bring your business cards and other resources to our Business After Business events, sponsor an event or a Lunch and Learn session, or ask Bobbi, Phillip, or myself to help you make some connections.
We are a non-profit 501c(6) organization, and not affiliated with the government.
We have touchpoints with the city, county, the economic development officials on a local and regional level, and the convention and visitors bureau, but we're our own entity. Our mission is to promote economic and community development by providing services and addressing issues important to business." Our membership revenues go back to work for our members through our business directory and guide, website, and a variety of professional development opportunities, such as our B.I.G. (Business, Industry, Government) class which helps to develop leaders in business and our community.
If you're in the market to start a business, we can help get you started.
While we're not the Small Business Development Center at The Ohio State University South Centers, we often help businesses connect with those resources and more. We maintain a working knowledge of the open spaces around downtown Chillicothe and the rest of the county to help small business locate in a place where they can thrive. We often serve as a sounding board for new businesses and connect them with other small businesses to create mentorship opportunities.
We're an advocate for business.
If you have an idea or a particular issue, the Chamber can advocate on your behalf. We don't take sides in political races, but our Advocacy Committee will discuss topics relevant to business and possibly endorse an idea, levy or community concern that will help promote a better business climate in Ross County. Examples include the establishment of the Leader In Me program in the Chillicothe City Schools, the creation of a Designated Outdoor Refreshment Area in Chillicothe, and lending our voice on state and national issues within our mission. We partner with the Appalachian Partnership for Economic Growth, the Ohio Chamber of Commerce, the U.S. Chamber of Commerce, and the National Association of Manufacturers, among others to increase the voice of Ross County businesses throughout the nation.
I'll post other things we do later in the year, but what are your thoughts about what our Chamber does for businesses in our community?