We're back in the office!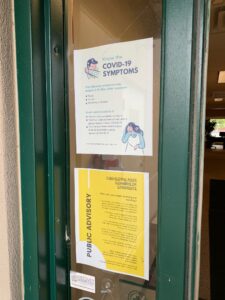 It's been a busy Monday.
Seven or eight weeks ago, that statement might not cause anyone to bat an eye. Today was a little different, though, there's a different feel to the "busyness."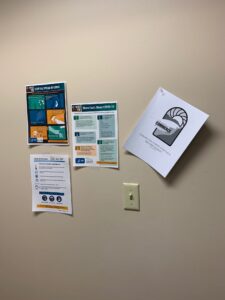 Just like many of you, we've spent the bulk of the last two months working from home, which was challenging. Technology serves us well in those times, but being out of the office has limitations only solved by returning to the workplace.
Now, we're back in the office – and it's much more different. We're happy to help you and your business sort out what the re-opening standards look like for you. Give us a call or drop us an email and we'll help.
I'll take you inside the precautions and protocols we've set up to get back to our workstations. As you read this, don't feel required to do these things. It's merely an indication of what we did as we prepared to return to our workplace.
We initially decided we could return on May 4, but after consideration, we decided to do a deep clean of the building and start from a place where we could say we were providing a safe environment for our employees, tenants and visitors. ServiceMaster Commercial Cleaning Advantage, a Chamber member, did a cold fogging procedure, which uses natural products (including the herb thyme) to disinfect the largest amount of surface areas possible, inside and outside. Special thanks to Dan Marshall, owner of ServiceMaster, who came down and did the deep clean himself.
Along with a fully cleaned office space, we also created a Safe Work Handbook to guide the daily procedures for our employees/tenants of our building. You can view it here. Our intent with this document was simple: create and implement daily guidelines to allow us to return to work while doing so safely.
So,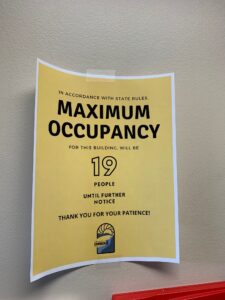 here's the experience if you need to visit us. First, we'd like you to call ahead and allow us to set up an appointment. Our building is open, but we want to avoid drop-ins to help us do our part to stop the spread. We're going to err on the side of virtual meetings, but if it can't be avoided, we'll meet face to face.
Our only entrance to the building is via the back entrance, which is our only handicapped accessible egress. We're also at a maximum occupancy of 19 people. We believe the best way to minimize any occupancy issues is to create one entrance to avoid any social distancing problems. We've posted our current maximum occupancy standard, what to expect as you enter our building and COVID-19 symptom information at the entrance.
Our conference room, which can host meetings up to 21 to 25 people, is open, but with a limited occupancy. In order to maintain distancing protocols, we'll be limiting meetings in that space to eight people. We added aqua-colored tape to seats to denote the places visitors can sit and removed the other chairs to keep it safe. We have similar indicators in case we have more than one person in our building at the same time.
We're wearing masks. We believe it's the best way to re-open, be safe, and help stop the spread.
Our handbook also mandates specific disinfection protocols that are to be followed on a specific schedule to help ensure a safe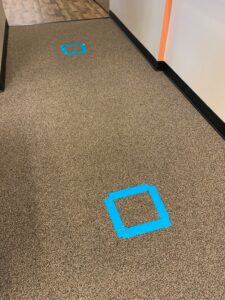 environment for all those inside the building and all others that visit us.
So, if you're a business preparing to open, we encourage the following:
Make sure you have adequate signage to help understand the rules of engagement for your business. Spell out the usage of masks in your space and any other matters that are helpful to their understanding of your business' reopen procedures. Give them contact information to express concerns or ask questions.
Remember, you didn't set the standards for opening your business, but you must uphold them. If customers complain about the rules, it's essential to tell them that you made these decisions based on what you think keeps you, your employees, and the valuable customers safe.
Make sure employees know who to contact in case of concerns. Clear communication could save unnecessary calls to the Ross County Health District to iron out things.
We hope to see the COVID-19 numbers trend down and move toward a more full re-opening of businesses throughout Ross County.