Before break, Congress must act to pass USMCA
In less than two weeks, Congress will leave for the winter break.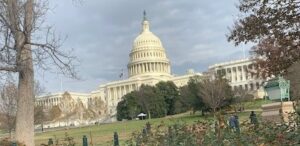 But before they do, they have a lot of important matters to handle, and the most critical piece of legislation to pass is the United States-Mexico-Canada Agreement (USMCA). We're urging both of Ohio's senators, and our U.S. House members, Reps. Steve Stivers and Brad Wenstrup, to vote 'yes' on the measure.
Business is the engine that drives the economy across the country. When business is good, jobs are created, those jobs pay a wage that helps others buy the things they need, and the economy is strong. USMCA will give Ross County a fighting chance to continue the great things happening here.
For our manufacturers, small businesses, farmers, we hope they act soon to pass this vital measure. You can check out what it means to Ohioans, but USMCA rebalances and modernizes our trade agreement with two trade partners who do nearly $28 billion worth of business with Ohio.
For example, the state's poultry farmers – who create more than 20,000 jobs and $718 million to the Buckeye State economy each year – will have new access for chicken and egg exports. Dairy farmers will benefit from the elimination of Canada's unfair milk pricing program. Our small business exporters will get a boost from the deal as well.
Canada and Mexico account for 40 percent of all U.S. export growth in the past decade, and USMCA will lock in tariff-free trade across North America for virtually all goods. For manufacturers such as Kenworth and Pixelle, it's a strong move forward for what they produce right here in Chillicothe. The agreement's new Labor chapter also makes new enforceable labor standards a core part of the deal, which levels the playing field for American workers and improves wages and conditions across the continent.
The agreement also updates our trade policies for the digital age, with top-notch rules for digital trade and allowing companies of all sizes and sectors to engage in digital commerce across the continent. It will also protect intellectual property and block counterfeiting and piracy.
The passage of USMCA is a win for Ohio and, specifically, for Ross County. We hope our congressmen see it that way as well.