Speakers announced for Friday's Community Forecast Breakfast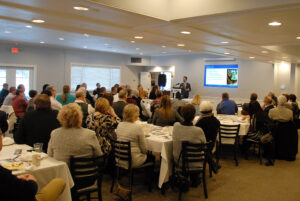 While Punxsutawney Phil and Buckeye Chuck will wait a few days to tell us whether we can plan on six more weeks of winter (have we even had six weeks of winter to date?), Chillicothe Chuck will be up and at 'em at Friday's Community Forecast Breakfast – 7:30 a.m. at the Chillicothe Country Club.
We may be a little ahead of the game when it comes to seeing a shadow, but the information we're going to share about the community is much more valuable than a groundhog's prognostication. The breakfast will feature four speakers who not only can speak from expertise on what to expect in 2020, but they are actively engaged in the effort to make those things happen.
Our speakers will be Jennifer McFarland Barrett, vice president and senior advisor consultant for Franklin Templeton; Todd Shelton, director for regional public affairs (Ohio and Pennsylvania) for the National Association of Manufacturers; Tammy Eallonardo, economic development director for Greater Chillicothe & Ross County Development; and Tiffany Baldwin, program manager for Downtown Chillicothe.
McFarland Barrett, of Cincinnati, will be our keynote speaker and represents Franklin Templeton in southwestern Ohio and northern Kentucky. She began her career in the financial industry in 2000 and joined Franklin Templeton in 2007. She's a resource for investment solutions, including mutual funds, separately managed accounts, 529 plans, and insurance products.
Shelton, of Lancaster, came to NAM in 2018 after nearly six years as the SE Ohio District Director for U.S. Sen. Rob Portman. Before that stint, Shelton spent 3 1/2 years in the Athens County economic development office in a variety of roles. He also worked as a personal aide to the late Ohio Sen. George Voinovich. He handles policy analysis and governmental relations for NAM in his regional role.
Eallonardo is in her third year as the chief economic development contact for Ross County. She serves as a strong resource in the area of workforce development and business expansion. Currently, both of the county's cornerstones – Adena Health System and Kenworth – are actively expanding and Eallonardo was a solid resource for those projects.
Baldwin is in her second year as a resource to grow the already thriving downtown in Chillicothe. In the past year, she's spearheaded projects to create new wayfinding signs and kiosks throughout the First Capital District and helped to champion DORA and specialty events to bring more people downtown. Downtown Chillicothe is a non-profit organization which works with government and business to help continue the revitalization already in place.
We hope to see you there! But make sure you tell us you're coming by clicking here and registering on our event.