Portman honored with Jefferson-Hamilton award from U.S. Chamber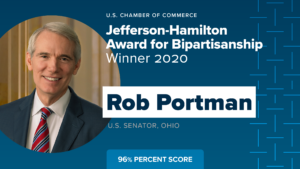 U.S. Chamber of Commerce President Suzanne Clark and Chamber Chief Policy Officer Neil Bradley today unveiled the Abraham Lincoln Leadership for America Award and the Jefferson – Hamilton Award for Bipartisanship, which recognize members of Congress who demonstrate the bipartisan leadership and constructive governing necessary to move our country forward. The announcement was made during the First Annual U.S. Chamber of Commerce Governing with Distinction Ceremony.
Among the winners from Ohio was Sen. Rob Portman, who scored 96 percent on the Jefferson-Hamilton scale.
"Now more than ever, our nation needs elected leaders with the courage to pursue common ground and bold, bipartisan solutions to America's greatest challenges," said U.S. Chamber President Suzanne Clark. "These awards honor the deserving members of Congress that are forging common-sense sense solutions, working across the aisle, to enact lasting and meaningful reforms. In the days ahead, Congress must work together and support our nation's free enterprise principles that will help bring our economy back to strength and put our people back to work."
"Last year, the U.S. Chamber pledged to heighten our focus and reward bipartisan leadership and constructive governing, and we are now making good on that promise today," Clark added.
The Jefferson–Hamilton Award for Bipartisanship
America's elected leaders should be men and women of conviction and principle who are also able to find common ground with those with whom they disagree. Since the days of Jefferson and Hamilton, America has benefitted from leaders who found ways to work together despite their differences. The Jefferson-Hamilton Award for Bipartisanship recognizes those members of Congress who in their actions have demonstrated a willingness to work across the aisle in support of common objectives.
This award is earned by the 10 top scoring senators and 20 top scoring members of Congress, apportioned by party. Rating is based on the number of bills — except those formally opposed by the Chamber — a Member cosponsors introduced by a Member of the opposite party. Similar to Leadership, the Bipartisanship component is calculated on a ranking relative to a Member's performance compared to members of their own party. The top-ranked of both parties earn 100%.