"So, what ELSE is going on in Chillicothe?"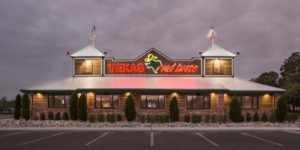 It's a question I get quite often, actually.
Most people know the story of Chillicothe's resurgent downtown, but they ask, " So what else is going on around the county?"
It's a good question. Often times, the most public things going on in our county are centered around downtown, but there's a great variety of things going, particularly on Bridge Street.
As the weekend Gazette business roundup indicates, there is plenty of action on North Bridge Street, as well as a few projects that will be getting started on Western Avenue and elsewhere. Here's a quick look:
Work continues on the Texas Roadhouse — which has more than 550 locations in 10 countries — site on North Bridge Street, in front of the former Super Kmart building. The 1.5-acre restaurant from the Louisville-based company is set to open in the fall … which could be around the time that Spirit Halloween is opening their temporary location in the former Super Kmart building. A sign for Spirit Halloween is already up on the building.
As we've mentioned previously, just north of Super Kmart, there are plans to build a Home2Suites hotel, with approximately 95 rooms, on Shawnee Lane (behind Golden Corral).
Along Western Avenue, the Captain D's restaurant started work on the foundation of that new project last week. The location, just east of the Casa del Taco location, should be later this year, or early 2020. The casual seafood restaurant, based in Nashville, has more than 500 locations across the country.
In late June, Atomic Credit Union held an open house about a possible Western Avenue location at the entrance to Brewer Heights, in which they answered questions from the public and other interested parties. It's still in the formative stage.
As the Taj Mahal Indian Grill co-owners opened that location in Central Center, they also have plans to open a Greek/Mediterranean location. Taj Mahal, at one time, was going open next to Crispie Creme on North Bridge, but the owners changed course once they found out a sit-down location was avaiable in the former Panda Pantry location. As a result, they're working on the Greek concept in the North Bridge Street location next the Metro PCS store.
Right in the same area, Zanzi's Pizza has plans to open a location at the NW corner of Bridge and Main streets. Another pizza restaurant, Gatti's, is under construction in the Chillicothe Mall shopping center, next to Dunham's Sporting Goods.
That's a super quick look at a few things that are happening in and around the area. We'll have more on the Kenworth and Adena Health System expansions, as well as some other big projects later.