Nature's Help Grand Opening & Ribbon Cutting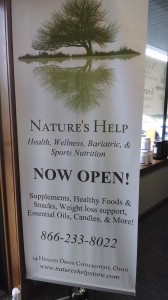 Friday, April 17th, Nature's Help located at 14 Health Drive celebrated their grand opening with a ribbon cutting hosted by the Chamber. The newly opened healthy living store features a wide array of items including healthy alternatives to soda, potato chips, candy bars and cereals. Nature's Help also has items and assistance with weight loss and bariatric. For more information about the store and what it has to offer visit their website at www.natureshelpstore.com.
Owner, Bo McCoy, had a renewed vision in life after losing more than 300 pound. To read more about Bo's story click here http://www.chillicothegazette.com/story/news/local/2015/04/01/man-seeks-help-others-become-healthier/70808144/
Nature's Help had a grand opening sale Saturday, April 18th which featured over $400 in give-a-ways and special guest Dell Smith from Anytime Fitness, also a new business in Chillicothe. Business owners plan to work together to provide health & wellness opportunities and options to Chillicothe and Ross County.
Click here to view all the photos from Friday's ribbon cutting https://www.flickr.com/photos/130271511@N02/sets/