In the middle of uncertainty, good deeds give us hope
The last few weeks have been a whirlwind both statewide and nationally. We've watched countless businesses close their doors with an uncertainty of when they might reopen as the terms "social distancing" and "flatten the curve" become more prevalent in the American vernacular.
Generally, in times of crisis, American's have come together. After Pearl Harbor and 9/11, there were lines of people ready to volunteer and help. That's what makes this time in history such a paradox — we're coming together as a community, even as we're told to stay apart.
While it's easy to look at Facebook or Twitter and see lines of people fighting over essentials, that's not the majority of what we've witnessed in our community. What we've seen the most of is the American spirit — a spirit of kindness, selflessness, and resilience. And that's why we started making a list of kind acts in our community. We want to highlight these actions as a reminder that there are a lot of good people out there and that we are infinitely stronger when we are together.
Keep in mind; this is only a drop in the bucket of the kindness going around in our community. Every day people in our community are doing selfless acts that don't make it to social media or aren't known by anyone else. The person that checks on their neighbor daily, who mows the older adult's yard down the street, who buys food or essentials and donates them to the less fortunate; they don't get recognition, nor do they ask for it. So, we just want to thank the faceless members of our community who contribute without the accolades.
Now, to recognize the ones we have heard about: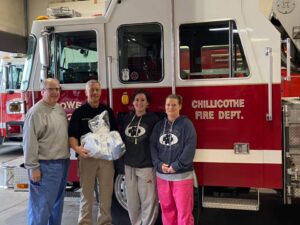 Mr. Gatti's Pizza, a business still pretty new to our community, donated their entire food stock to area school districts as a way to feed local children.
Donahue-Stangle-Brown Insurance Agency is helping families who have lost their income put food on the table. They're also purchasing groceries for the elderly. If you know of someone who needs help getting food, call Donahue-Stangle-Brown at 740-656-5119 or 740-998-5544. You don't have to be insured by their agency to call! We would also like to mention that their Chillicothe office is doing a food drive for families in need. Food can be dropped off at 16 Health Drive in Chillicothe from 9 a.m. to 5 p.m., Monday to Friday.
Though closed until April 6, the Chillicothe & Ross Public Library has partnered with Children's Hunger Alliance to provide meals for kids that can be picked up daily from 4 to 5 p.m., Monday to Friday.
The United Way of Ross County is allocating "micro-grants" up to $500 for any local non-profits or K-12 schools to go towards virus-related aid. The grants will remain available until the funds are depleted. Applications for the grant can be found at www.unitedwayross.org, emailing info@unitedwayross.org, or calling 740-773-3280.
At Corky Que in Chillicothe & Circleville, kids get a delicious free meal from their children's menu. They are located on Eastern Avenue in Chillicothe from 11 a.m. to 4 p.m., Monday-Friday.
Triple Crown Family Fun Center loaded up a car full of pizza and delivered them to local truck stops in Chillicothe and Jackson. Truckers have had a particularly tough time as the supply chain never stops, and all dine-in restaurants are closed. Tractor-trailers aren't exactly conducive to drive-thru windows. When each trucker had been served in these locations, they then donated the rest to the local police and sheriff departments.
Gerber Insurance Agency partnered with Aloha Tacos, Mercy Home of Ohio, and Detillion Landscaping on Friday, March 20, to offer a free lunch at their office to all area children. Also, they gave food bags to every child that came through.
Fluor-BWXT donated more than $5,000 to local food banks in Ross County.
Chillicothe Animal Clinic (pictured right top) and North Fork Animal Clinic donated Personal Protective Equipment (PPE) to the first responders at the Chillicothe Fire Department.
Western Avenue McDonald's donated food to Kroger employees, who have been putting in long hours to keep shelves stocked.
For every four meals sold, The Market at Schlegel's (pictured right bottom) will donate a healthy meal to a healthcare provider or educator in the Ross County area.
Recognizing the severe shortage of protective gear for healthcare workers and first responders, Harbor Freight is donating their ENTIRE supply of PPE to front-line hospitals with 24-hour emergency rooms in every community that has one of their stores. If you work at one of these hospitals and need these items, visit https://hf.tools/ppe-request
Double D's Auction House donated totes to Chillicothe City Schools so that they could continue transporting/delivering meals to school children in need.
Don't forget we have a list of businesses who are offering carryout or delivery of food, etc. that we're regularly updating. We are also offering guidance and resources on what COVID-19 means for our investors and the community.
If you know of any other businesses doing good deeds for the community, email pking@chillicotheohio.com so we can highlight it.