Business community supporting family of Victoria Schafer in search for answers in connection with her death
A $10,000 reward through Southern Ohio Crime Stoppers has been established for information in connection with the death of Chillicothe resident and businesswoman Victoria Schafer.
Schafer, 44, was killed Sept. 2 when a large portion of a tree struck her while she was working as a photographer at Old Man's Cave. Schafer's work as a portrait photographer was extensive and she was with a group of students taking senior photos when the incident occurred.
At a Monday press conference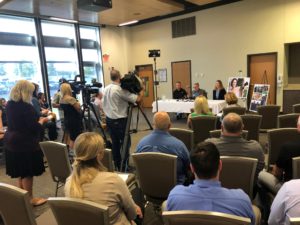 at the PACCAR Medical Education Center, Schafer's family, the Chillicothe Ross Chamber of Commerce, and Crime Stoppers gathered to announce the reward, which would be paid for information that leads to an arrest and criminal conviction. Among the crowd were people representing several different Ross County businesses, gathered to show support for the Schafer family.
The Ohio Department of Natural Resources is investigating the death, which they say occurred when the portion of the tree was "dislodged" and fell to the gorge below. Investigators are declining to reveal any other details, due to the ongoing investigation.
ODNR Director Mary Mertz said, "Our investigation is ongoing so that we gain a clear understanding of the events that led to the tragic death of Mrs. Schafer. We appreciate everyone who has reached out with information about what they saw on Sept. 2, but we still need the public's help."
While investigators are reluctant to say that the case is a criminal investigation, family members are seeking the information to bring resolution about what happened in the moments leading to Schafer's death.
"As time has elapsed between her death and now, more and more questions are being raised about the array of events that preceded what happened," said Mike Throne, chamber president, who hosted the press conference. "Those initial questions have given birth to newer questions and many are looking for answers that only a thorough and complete investigation can provide. We believe we need help from the global community to find those answers."
Specifically, investigators are looking for people who may have visited Old Man's Cave around 5:30 p.m. on Sept. 2. If you did, you may have information that could be useful — in particular, what or who you saw in the area at the time of your visit, or even photos from that day. Investigators would like to see them to analyze for potential clues.
Tips to Crime Stoppers are completely anonymous, and can be reported by calling (740) 773-TIPS (8477) or 1-800-222-TIPS (8477). Information may also be reported to ODNR investigators by calling (614) 799-9538. Tips can be sent online as well to www.p3tips.com or by Facebook at SouthernOhioCrimeStoppers. Additionally, a fund has been set up at the Ross County Bank for anyone interested in making a donation that will add to the $10,000 in reward monies pledged by Southern Ohio Crime Stoppers.