Building a champion
S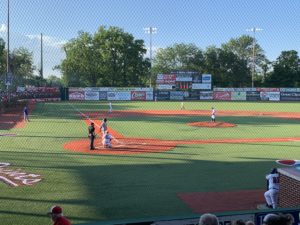 omewhere John Wend – most likely behind a microphone – is smiling.
For 25 years, Wend was the booming public address voice of the Chillicothe Paints and dedicated himself to making sure that players, coaches, and fans had a great time while at V.A. Memorial Stadium. As the literal voice of the Paints and, arguably, its most recognizable icon, he often spoke of the joy of winning the 2010 Prospect League title, all the while hoping for one more run at the championship.
Unfortunately, Wend died in 2017, without experiencing a similar joy.
After losing what some people believed was their best player (catcher Dylan Shockley) to the majors, and starting out the oh-so-short season by losing seven of their first nine games, it didn't appear the Paints were on that track this season either.
But after overcoming those initial obstacles, the Paints finished the season by winning 40 games, winning three playoff games on the road and are the Prospect League champions for the second time and the first time since 2010 (when, oh by the way, they won in pretty amazing fashion, too.)
It seemed improbable, but improbable is a bit of a theme for this team, one that made Chillicothe proud on and off the field in 2019.
At one point, catching Danville – once with a commanding lead in the East Division – seemed out of the picture. A slow start, it appeared, might doom their playoff hopes.
But then, things started to come together.
Cole Andrews, who inherited the catcher spot that Shockley's departure opened up, ended up as an all-star. Pitcher Nate Haugh, whose injury during his junior year of high school meant that he had to walk on to the team at the University of Toledo, ended up as the league's best reliever and a legitimate pro prospect. There are so many stories like that on the team it's difficult to narrow it down to a few.
The wins started piling up. On July 2, they were 18-11. They went 21-9 the rest of the way and finished tied for first. They won the East Division playoff game – on the road – then lost their only home game in the Championship Series before winning two straight after a nearly 500-mile bus trip to Cape Girardeau, Mo.
But one of the best stories I've heard all year long is illustrative of the bond that Paints players have to the Chillicothe community. At a game this season, a man walked up to a local woman and asked if she was a host mother for a player. She replied that she was and inquired as to why he wanted to know. As it turned out, the man – Sam McAninch – was a Paints player in 1997-98 and his son, Cal, was a player on this year's team. He remembered how great it was to play in Chillicothe, more than 20 years ago, and felt great about his son playing here as well.
That's the way the Paints, and Chillicothe, are. You might leave, but the memories go on forever.
Last week was just one more memory in a long line of them. Congratulations to the 2019 Prospect League Champions!